Wedding DJ in Tenterden Kent
Congratulations on your upcoming wedding in Tenterden. It's a beautiful town and often described as the 'Jewel in the Weald' with some beautiful venues perfect for your wedding.
My name is Andrew Broughton and I'm an award-winning wedding DJ with over 20 years experience.
I help guide couples like you through your wedding planning, using my expertise for a smooth and enjoyable wedding.
As a wedding DJ, I help make sure you enjoy your day; I provide the evening entertainment as well as setting up earlier to provide the ceremony music, background music throughout the afternoon and the use of microphones for the wedding speeches.
Everyone was on the dance floor loving life.
Michaela and Andreas - Wedding at the Little Silver Country Hotel in Tenterden
The effort put into a wedding is usually a lot more than other type of events. A wedding should be your once in a life time experience, so you want it to be special for the right reasons and as your wedding DJ I want to help you create those magical memories. This is why I take the time to plan a wedding with you and ensure that your wedding reception runs smoothly.
Wedding DJ Services
I don't offer complicated wedding DJ packages for you to choose from. Instead you have the choice of me being there as your wedding DJ for just the evening reception or to setup earlier to provide background music during the wedding breakfast too.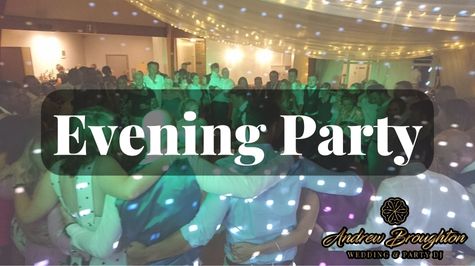 I setup once you've finished your meal and the room is ready for the evening reception, which usually takes me around 45 minutes. Not all venues have the space to have the disco setup all day long; for a lot of venues the disco shares the same area as the top table and this is the most practical solution.
£550 to £750, which typically includes setting up at around 6pm for an evening function starting at 7pm and running through until around midnight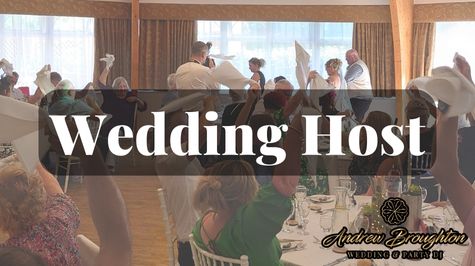 I'll arrive earlier in the day and provide background music during the wedding breakfast. It also gives you the option to have microphones for speeches. I'll be on hand in case you need anything else during the day, such as making announcements and running activities to create the perfect atmosphere.
£850 to £1100, which typically includes being setup for 2pm and playing background music through the meal and then the evening party until around midnight
Andrew was also very friendly and helpful and we needed to do very little
Gemma and Adam - Wedding at the Little Silver Country Hotel, Tenterden
Wedding Extras
If you're looking for something beyond a wedding DJ, I have a number of additional services to help enhance your special day.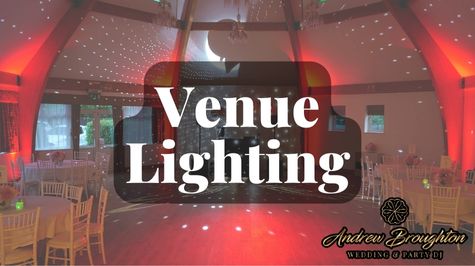 You've spent a lot of time choosing your perfect wedding theme, getting the colours just right. But what about the colour of the venue as you and your guests walk in? Would it make sense to add my uplighting package to have your wedding theme colours on the venue walls.
From £100 if you've already booked me as your wedding DJ or from £200 for an event in the Ashford area
Find out more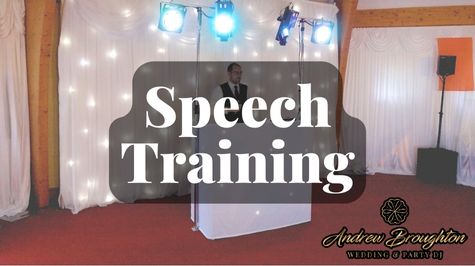 You look around the room as you finish your speech and everyone is laughing and applauding the killer speech you've just nailed. You feel a sense of great achievement that you've done it. And that can be you; I can help give you the confidence to deliver the speech you want to.
From £30 for a face to face session to help you deliver your speech or from £75 for a 3 hour speech writing session
Find out more
So many people danced and enjoyed the evening, even those who never usually dance!
Hazel and Phil - Wedding at the Little Silver Country Hotel, Tenterden
Wedding Venues in Tenterden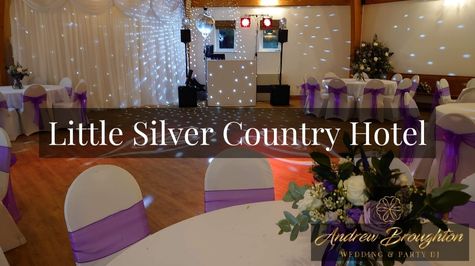 I've been working on behalf of the Little Silver Country Hotel as a wedding DJ here for several years and truly love every wedding I attend here.
I usually setup in the Kent Hall where the top table is and therefore have to wait until the meal has finished and the guests have moved outside (or the organgery if the weather isn't that great) for coffee. Access is easy as I can load in straight through the fire exit at the side of the hall.
Read my Little Silver Country Hotel blog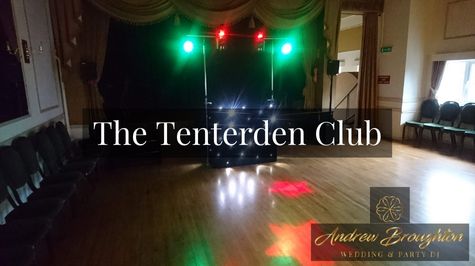 Also known as the Tenterden Working Mens Club, the club has a downstairs bar area for members only. The upstairs bar and function room is perfect for private parties, such as weddings and birthday celebrations.
Read my The Tenterden Club blog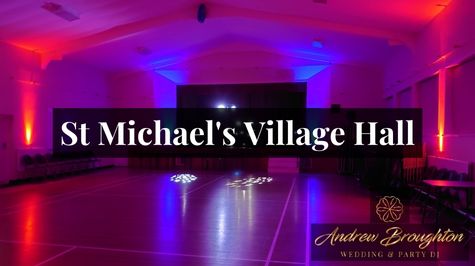 Situated just off the A28, St Michaels Village Hall is an easy to get to venue with all the usual facilities you'd expect from a village hall. There's ample parking around the back and even with a small marquee setup for the hog roast there was still plenty of space. The stage provides a perfect place to the disco to setup, which could be done in advance or behind the curtain while you're eating.
The Great Barn
Hidden away down a country lane, this converted barn offers an idealic Kent countryside location. The DJ setup location is on a stage just off the main area so that I can setup in advance or during your meal. There is a sound limiter at this venue which does restrict the volume I can play, so if you want loud music you'll need to factor this in.
Last modified: 19 March 2023 at 02:30