Proud member of The Wedding Chaps
Award-winning Wedding & Party DJ
My name is Andrew Broughton and I'm an award-winning wedding DJ and party DJ based in Ashford, Kent, with over 20 years experience.
From the moment you walk into your venue until the final dance, you want the party that your guests will be talking for a long time. You want to see other people dancing with you, singing along to your favourite songs with your arms in the air and you want don't want it to stop.
Music was brilliant and dance floor remained full!!!!!
Kirsty and Stuart - Wedding at the Little Silver Country Hotel in Tenterden
Each wedding and party is unique to me and you can expect the best service from your first contact to the last dance. I enjoy playing a variety of music and welcome your input to help me understand the best mix of music to create the perfect atmosphere for your wedding or party. This includes the use of my online music request system that you and your guests can use to suggest the best songs for your wedding and party.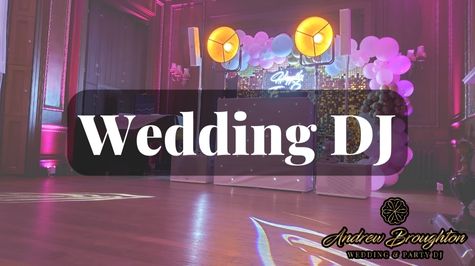 I have helped many couples over the years to perfect their one-in-a-lifetime day and leave them with the happy memories of their dream day.
Find out how I can help you as your wedding DJ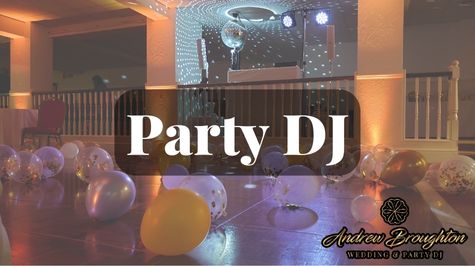 Suitable for engagement parties, wedding anniversaries and birthday parties, I can provide the music and lights to entertain all age ranges.
Find out how I can help you as your party DJ
I am here to help you enjoy your perfect wedding and party. With 20 years experience as an award-winning DJ I can guide you through your planning and listen to what you want from your wedding and party.
I also offer speech training too, helping you nail your speeches and for everyone to enjoy this part of the wedding. I'm happy to guide my couples on the order of wedding speeches and when hosting I'll introduce and guide everyone through the process.
I've worked at venues across Kent, with some of my highlights including the Little Silver Country Hotel in Tenterden, Bilsington Priory near Ashford, The Secret Garden, Chilham Village Hall near Canterbury, Lympne Castle, Quex Park and Dover Castle in Dover.
Music and set up was perfect for my 40th, we danced all night to 80's, 90's and current music
Helen - 40th Birthday Party at Ashford Cricket Club in Kingsnorth
My love of music expanded when I joined as a volunteer at Dover's hospital radio, playing a wide range of music for the patients. I really enjoy this as I get to play a diverse range of music and uncover great songs. You can occasionally still here me on AHBS with my kids.
Prior to that, my passion for audio and visual started at school where I became stage manager, producing the sound and lighting for the school plays. And I would help the DJs at each school disco.
Why book me?
I love DJing and have 20 years experience entertaining at weddings and parties across Kent.
I take the time to listen to what you want from your wedding and will guide you through the process.
I find that often the first question people ask is "how much" because booking a DJ isn't something that most people do regularly. Would it make sense to arrange a chat?
Read my blog with tips on when to book your wedding DJ.
Terms & Conditions | Privacy Policy | DJ Equipment For Sale | Links | Site Map
Last modified: 23 November 2023 at 14:48