Party DJ in Canterbury, Kent
I am a party DJ based in Ashford covering events including engagement parties, wedding anniversaries and birthday parties . Each event is unique to me and you can expect the best service from your first contact to the last dance.
Getting the music right is vital for any party and I listen to your requests to understand what will work best. You'll have access to my online request system to allow your guests to add their requests in advance, as well as taking requests on the night.
The music was just what we wanted, a fun evening was had by all
Sarah - Birthday Party at the Mersham Sports Club near Ashford
Birthday Party
I've covered birthday parties of all ages, from childrens parties with lots of games through to the older milestones to boogie the night away.
I enjoy playing the music that everyone likes and even like to play music through the ages to mark the number ones overtime.
There are lots of great venues for a birthday party in the Ashford area. I've worked in venues including The Connigbrook Hotel, Ashford Town Cricket Club, Homelands, The Tenterden Club and Mersham Sports Club as well as many village halls across the district.
Everything on the night was perfect and Andy was a great addition with his skills and experience
Freddie - Birthday party at the Tenterden Club
Party DJ Cost
The cost of a party DJ varies depending on various factors, such as the location and timings of the event.
As a guideline my evening fees start from £450 (2023 prices). To confirm how much it will cost please request a quote.
DJ Equipment
My fees include the sound system and lights. The lights are computer controlled to create a versatile show to suit your event, often placed around the room to liven the atmosphere.
I understand that you spend a lot of time preparing for your events paying attention to detail, so I make sure that as a DJ I look professional and the equipment is tidy. I use a deck stand with a cover so that you don't see all of our cables and equipment.
The whole evening ran smoothly, everyone that loved to dance, danced and enjoyed themselves
Claire - Birthday party at Ashford Town Cricket Club
DJ Safety
Providing you with an enjoyable and safe event is important to me. I have a £10 million Public Liability Insurance (PLI) cover and I have my equipment regularly checked for electrical safety and can produce a Portable Appliance Testing (PAT) certificate.
Party Venues in Canterbury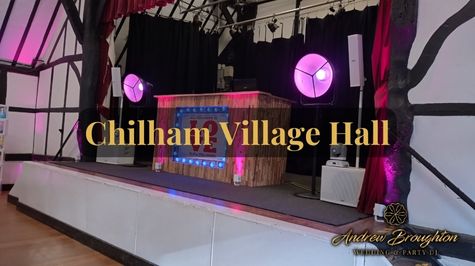 Chilham Village Hall is an ideal wedding venue near Canterbury in Kent. Located just off the A252 between Canterbury and Challock, it is easy to get to yet feels remote and quiet at the same time.
Read my Chilham Village Hall blog
Mount Ephraim Gardens
Set in the beautiful Kent countryside this beautiful Edwardian terraced gardens and house is a treat of a wedding venue. When I was last at Mount Ephraim Gardens I setup in the hallway under the stairs, which was a perfect location just outside the main room where the guests enjoyed their weddding breakfast.
Read my Mount Ephraim Gardens blog
St Martin's Priory
Canterbury is full of history and St Martin's Priory is no different. For the wedding here I was setup in the back room where the evening reception was held, which meant carrying all the equipment through the main corridor and therefore not practical to setup in the evening.
Kings School
This is normally a venue for the annual Christmas party I do for the school so it was a nice change to be here in the summer for a wedding. Setup in a marquee within the school grounds provided a nice venue with the backdrop of Canterbury Cathedral.
Last modified: 15 May 2023 at 10:05